PTab Spreadsheet Macros
Macros (automating tasks) allows you to create simple spreadsheet applications.
For details about PTab macro language see PTab Manual. See also macro samples.

Sample macro - Stop Watch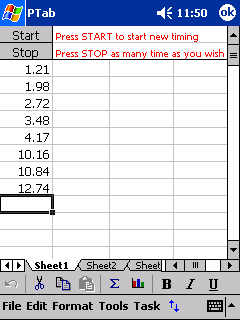 Download this sample - Stop.pt (4KB) or start from scratch:

1. Create new workbook: File > New
2. Create new workbook macro: Menu item Task > Work Book Task ..., press New button
3. Type name of macro to the edit line: Start
4. Type the macro to the text box bellow
| | |
| --- | --- |
| Step 4 | Step 5 |
First two lines of macro clears previous values (range a3:a65536), the fourth line stores the current time in e1 cell.
5. Make this macro tappable on A1 cell: choose Tap on cell: in Run on combo box and write "A1" to the edit line next to the combo box (see picture above).
6. Create Stop macro:
| | |
| --- | --- |
| Step 6 | Step 7 |
This macro stores the current time in variable named tc, selects first empty cell in the first column (A column) and sets the StartTimeStoredInE1Cell-CurrentTimeStoredInTCVariable difference into this cell.
7. Make it tappable on B1 cell (see picture above).
8. Press Close button. Done!